The Indianapolis Public Library's Central Library is a magnificent location available to rent for weddings and other private events, and is perfect for the bookworm couple looking for a unique spot to host a wedding or ceremony. This downtown location has three spots available to rent – the Central Garden can serve as an outside location for a wedding ceremony, and the Simon Reading Room and Atrium can serve both ceremonies and receptions.

The Atrium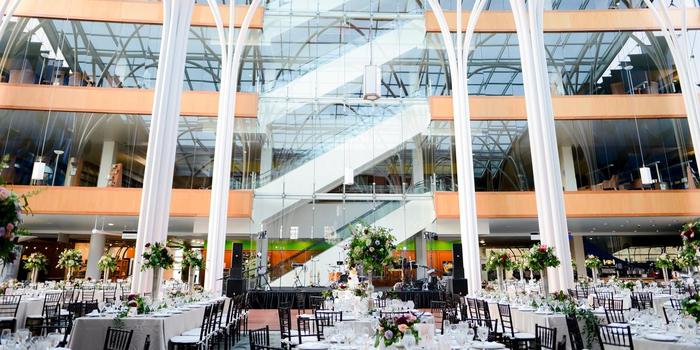 The Atrium can sit up to 450 people with banquet seating. Its modern architecture with unique columns, a high glass ceiling over 50 feet up, and walls of wood and glass make for quite a statement.
The Simon Reading Room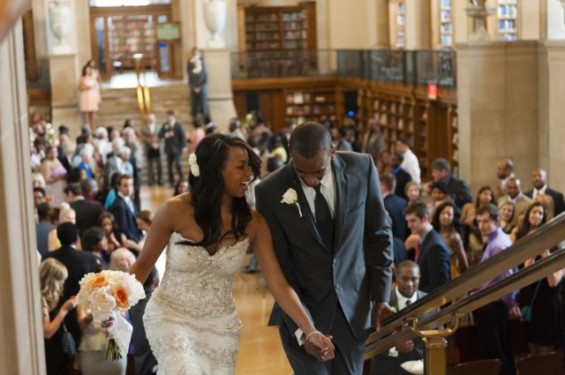 The reading room is a smaller reception space, holding 125 with banquet seating. It too has impactful architecture, but of a historical, classic flavor, with marble staircases, white oak paneling, and a high ceiling with inlaid detailing reflects the style of its time having been constructed in 1917.
The East Garden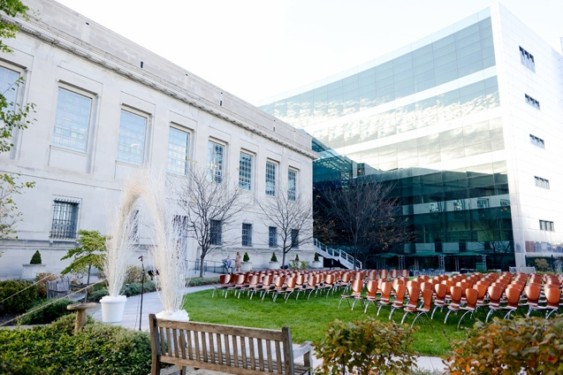 An attractive lawn surrounded by attractive gardens and the Library's blend of classic and modern architecture. Typically serves as a space for outdoor weddings. Views of downtown from the lawn.
As the library is a public building all week long, no ceremony can start earlier than 6 PM, one hour after close.
Wedding Cost
The library has a mid-range price level and is compares favorably with other flashy downtown venues. Rentals fees vary based on the time of year, day of week, and spaces selected but run from a little under $2,000 to a little over $3,500. Peak season pricing is in effect from March through October. The library has partnered exclusively with Ritz Charles for catering and beverage service. The library does permit alcohol purchased through Ritz Charles.
Details
Indianapolis Public Library, Central Library – Website
40 E Saint Clair St
Indianapolis, IN 46204
317-275-4100