The Sanctuary on Penn is a historic church venue located downtown, just a block from the Central Library. The former building was originally constructed in 1875, it maintains the look of an ornate, old church on the outside, with the Main Hall having a very unique, ancient Roman ruins design inside.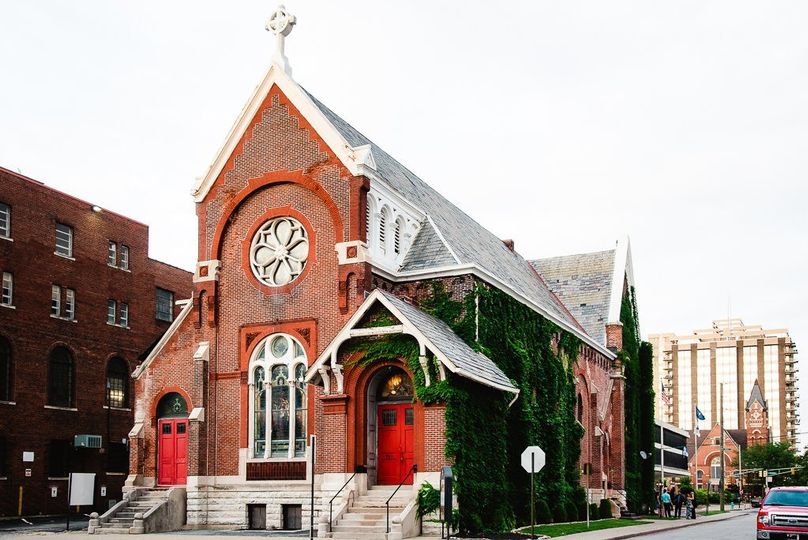 Outside, the Sanctuary has the classic features of a historic church. Ivy covered brick and stone walls feature large stained glass windows, including a prominent rose window.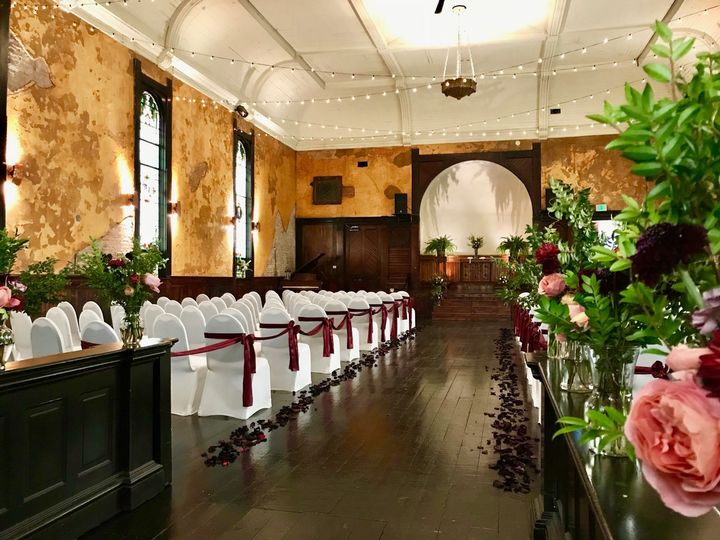 Inside the venue offers all-inclusive services with a few spots available to host your wedding ceremony and receptions. Most couples looking for a church-like setting will appreciate the Main Hall, which looks like an old European church and seats up to 300 people. Alternatively, they have a Courtyard, which can host wedding ceremonies up to 200 people. Finally there is a Cocktail Plaza which along with its Mezzanine can host almost 100 people for a sit-down dinner.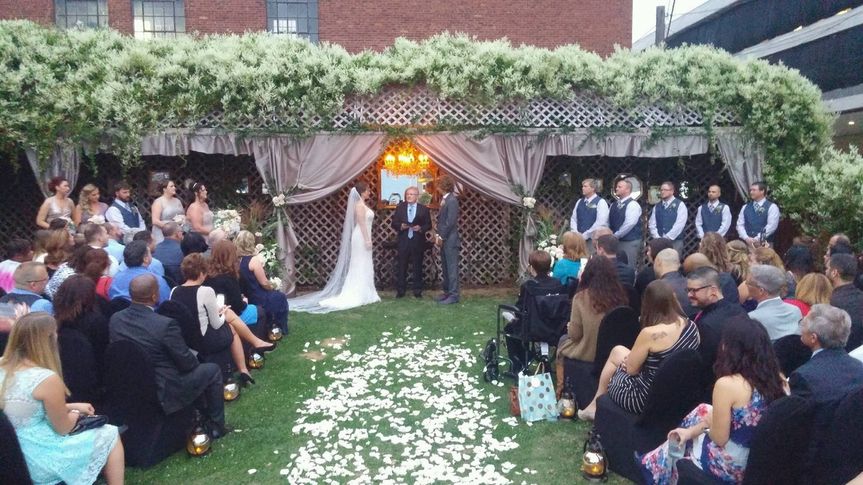 Additional smaller spaces inside include the Bridal Lounge, the Cave which is a perfect space for the groom to get ready, and the Salon with makeup stations.
Rental Services and Options
The Sanctuary on Penn's services are as all-inclusive as you'd like them to be. Services included with every rental are tables, chairs, linens, table settings, centerpieces, and all day access to the venue. Nice free touches include creating a signature cocktail and passed drinks and hors d'ouvres.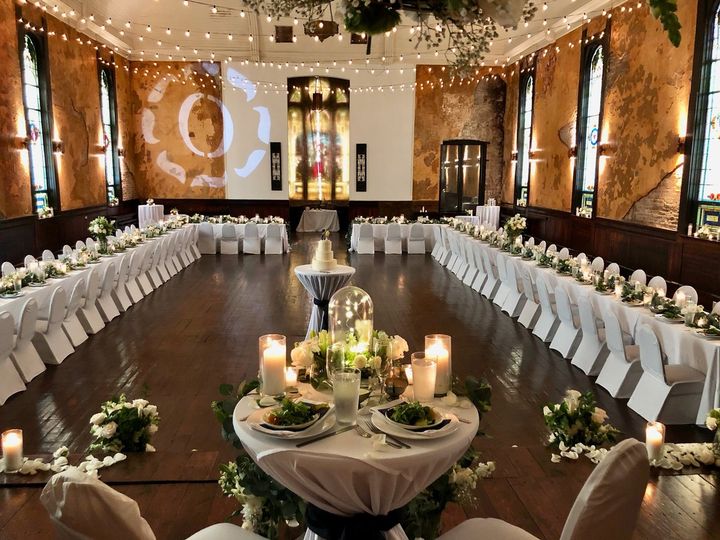 Services available on an a la carte basis include almost anything you might need or want for a reception. When you book your event, you get a planner who can help arrange just about the entire thing, including the photographer, DJ, hair stylists, even carriage rides.
Cost of the Sanctuary on Penn
Due to the wide range of services that could potentially be included on your bill, they have a wide price range of $15,000 to $35,000 for a wedding of 100 to 250 people, putting it in the mid to upper range for Indianapolis area reception halls. Catering minimums are $12,000 for Saturdays, $8,000 on Fridays, and $5,000 on Sundays.
They also emphasize how to optimize your wedding to your budget, highlighting their affordable rates on Fridays, Sundays, in the Winter, and even last minute (including one wedding pulled off with 8 days of planning. For instance, January and February have catering minimums 50% lower than the rates above.
Details
The Sanctuary on Penn – Website
701 N. Pennsylvania St.
Indianapolis, IN 46204